The Year's Event Reports 2015 - 2016

This is the Event Reports index page for 2015 - 16 and to view the report click on the relevant link below. There is (or should be!) a RETURN link which will return you here, a BACK and a NEXT link that will take you to the previous or next event chronologically.
To return to the MAIN INDEX page CLICK HERE.
Click on the event name or the photo to take to you to the main report for the event.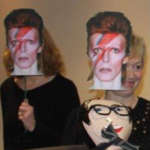 SLK AGM - 7th April 2016
A fairly usual format for the AGM saw 'accidental Chairman' Ian Partridge hand over the reins to the new Chairman Nigel.
HOWEVER, there was in interruption by the ladies from Tangent to welcome incoming Chairman Nigel. They seemed to be accompanied by several David Bowies ...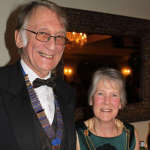 Ladies Night at the Forest Hotel - 20th February 2016
An excellent evening was had by all those attending our annual Ladies Night event, this time held at the Forest Hotel in Dorridge.
Chairman Ian Partridge even seemed to be offering small Partridges to some of the Ladies!
Dick also did a splendid job keeping some sort of order as MC.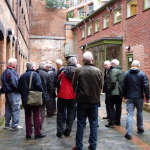 Visit to Newman Brothers Coffin Works - 4th February 2016
This was a slight deviation from the norm where instead we met for a lunchtime pint and food, followed by a visit to the Newman Brothers Coffin Works Museum. This is situated on Fleet Street right in the heart of Birmingham and on the edge of the Jewellery Quarter.
We were taken on a very fascinating tour of the old works which apparently lasted about 2 hours, although seemed far shorter (to this correspondent, anyway!).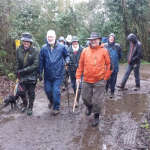 New Year Walk - 3rd January 2016
The Shirley Late Knights New year walk on Sunday 3rd January was to say the least a bit damp!
Our illustrious chairman provided mulled wine to start the walk then wimped out and met us back in the pub for lunch.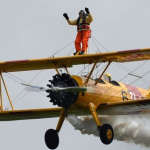 Reunion Speaker Night - 20th November 2015
Shirley Late Knights invited local Shirley hero Tom Lackey to join them as dinner speaker.
Tom entered the Guinness Book of Records in 2005 at the age of 85 for being the oldest wing walker in the world when he did a loop the loop. More recently at the age of 93 he completed a wing walk across the Irish Sea.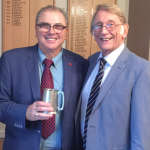 Golf Challenge versus Solihull - October 2015
First played in 1998 SLK has dominated the competition up to 2014 with 12 wins to Solihull's 4, and there has been one draw. So this year Solihull were really up against the odds.
It was not the best day to play. For about an hour it lashed it down and one group which will remain nameless cried off after 5 holes claiming a draw.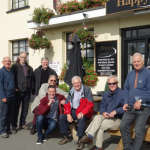 Guernsey Trip - October 2015
Under the direction of Paul Blewitt, eight of us, Paul, Chairman Ian Partridge, Vice Chairman Nigel Mears, Colin Bowater, David Brewin, Roland Robson, Bryan Chapman and Rex Smith flew from Birmingham to Guernsey on 9th October.
It was a boringly ordinary flight with no lost passports, no confiscations at the airport or anything untoward. Click the picture to find out more.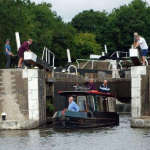 Canal Boat Trip - 18th August 2015
Several of our intrepid members had an 'outing' courtesy of 'Hawkesworth Nautical Experiences'.
All reports seem to suggest many pulled their weight to do all the necessary tasks such as swabbing decks, hauling on sheets, manning the gunwales, and raiding the galley!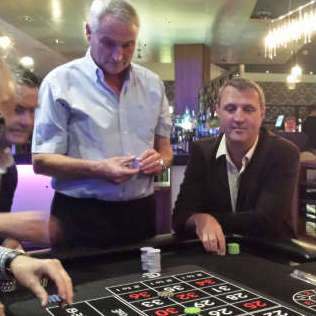 Broadway Casino - Thursday 6th August 2015
On the 6th August Shirley Late Knights High Rollers swaggered into to the last chance saloon at Broadway Casino. Following a great 3 course fusion meal and loaded with fistfuls of cash they played the high stakes roulette & blackjack tables.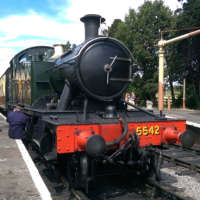 Birdlip Run - Sunday 2nd August 2015
This year saw a large and assorted number of cars make for the magnificent breakfast at Yew Tree Farm, Wootton Wawen. This was the start of a great day out around some picturesque towns and villages of the Cotswolds.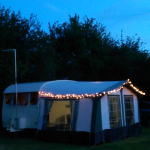 Camping Weekend - Friday 10th to Sunday 12th July 2015
A weekend spent camping with friends, a walk to the pub, a barbeque, beer, and malt whisky! What more could you want? The weekend even began a day early for someone!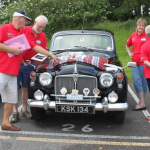 National Classic Car Rally - 4th and 5th July 2015
Shirley Late Knights were well represented at the 2nd National 41Club Classic Car Rally held in Cheshire on the 4th and 5th July weekend. The meeting venue was the top notch Shrigley Hall Hotel.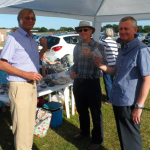 An Evening at Stratford Races - Tuesday 30th June 2015
An evening at Stratford Races in the sunshine! What more could you wish for? Except perhaps actually winning something ...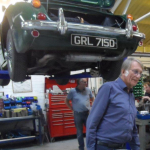 Visit to JME Healey's, Warwick - 4th June 2015
Ian arranged an interesting visit to somewhere close to his heart - JME Healeys - a restoration workshop for the good old classic Austin Healey!
According to the photo he nearly had a car land on his head ... (?!)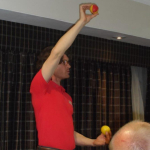 Juggling Night at St John's - 7th May 2015
Our first meeting since the AGM saw our Chairman welcome the Chairman of Shirley Round Table - Mark Irvine - to the meeting.
We had our usual meal before our 'speaker' for the evening - 'The Fool Monty' - had us throwing our balls around.
Index - Last edited 31 August 2016