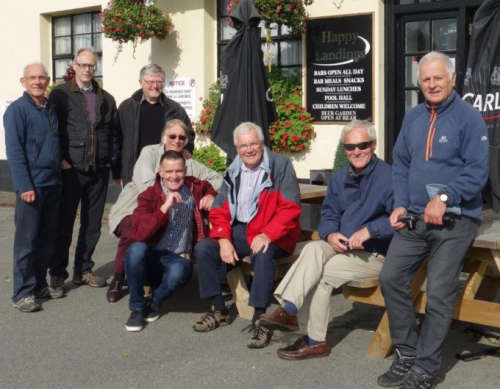 Words courtesy of Roving Reporter Rex:
"Under the direction of Paul Blewitt, eight of us, Paul, Chairman Ian Partridge, Vice Chairman Nigel Mears, Colin Bowater, David Brewin, Roland Robson, Bryan Chapman and Rex Smith flew from Birmingham to Guernsey on 9th October. It was a boringly ordinary flight with no lost passports, no confiscations at the airport or anything untoward.

We stayed at a great hotel, the Duke du Normandie very close to the harbour. It had a couple of the smallest bedrooms in creation. They made the Japanese capsule hotel rooms look big. But that apart, the bar was just right, the restaurant served fantastic food and the breakfast was all you could wish for.

With just the eight of us, we stayed together as a group and on Saturday we took the island bus to the museum of the German occupation where David looked longingly at a hidden gun which would be just great for keeping the greenfly off his cabbages. Back on the bus to a fish and chip shop and a selection of very different beers. Returning to the hotel we watched the rugby and wandered aimlessly around the old quarter trying to find our pre-booked restaurant for the evening.

On Sunday we took the ferry to Herm and wandered into the bar for a coffee before walking round the island, back to the bar for lunch and back on the ferry. Some of us visited the castle in St Peter Port before more beer and a final night meal in a restaurant overlooking the harbour.
It was a full-on weekend with some great fellowship and organisation. Well done Paul and well done Ian.

All of us except Colin took hand baggage only. We were able to leave him in the baggage reclaim area at Birmingham Airport on our return with a smug look on our faces. Those travelling home with Colin had of course to be more circumspect!
Another great International Weekend Away."
For more, I suggest you peruse the photos (and captions) below..