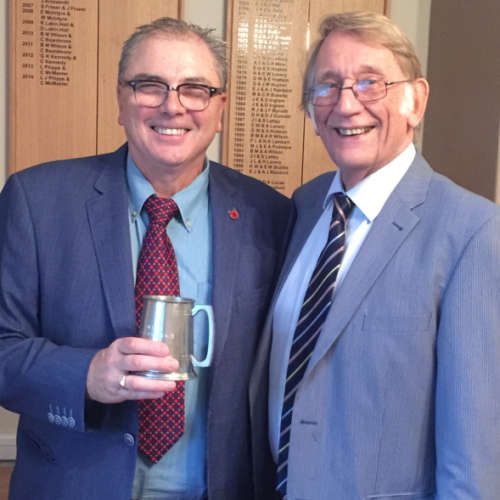 The report comes from our 'Course Correspondent' Andy Watkinson:
First played in 1998 SLK has dominated the competition up to 2014 with 12 wins to Solihull's 4, and there has been one draw. So this year Solihull were really up against the odds.
It was not the best day to play. For about an hour it lashed it down and one group which will remain nameless cried off after 5 holes claiming a draw.
The diehards, Sills and I, Bruce and Jerry carried on to the bitter end. It did brighten up for most of the back nine though. Sills and I finished on the 14th with a 6&4 win, although Kevin claims it was 5&4, then we walked in via the 14th tee to see how Bruce & Jerry were getting on. "2 down" says Bruce "and we are not coming in till we are in front".
True to his word Bruce and Jerry came down the 18th fairway 1 up and gave the Solihull pair a long put for a half knowing it would result in a win for SLK. Kevin was not happy when he found out.
So this year's best performance was the last match on the course, a fight back by Bruce & Jerry being 2 down at the 14th to end their match in a draw which was enough to give SLK a winning overall score.
Golf captain Andy and Chairman Ian celebrate at Olton Golf Club holding the "pot" first donated by Bruce and Solihull's David Scarf.
This means our annual challenge resulted in yet another win for SLK now leading 13 / 4 with 1 draw.