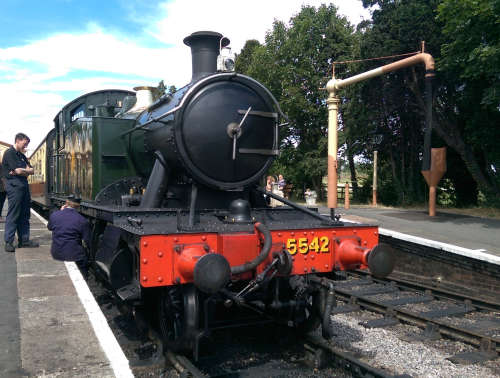 This year saw a large and assorted number of cars make for the magnificent breakfast at Yew Tree Farm, Wootton Wawen. This was the start of a great day out around some picturesque towns and villages of the Cotswolds.
The route took us from our breakfast stop, through Little Alne, Great Alne, and then South to Bidford on Avon and our first stop, to look at the damaged bridge.
From there it was onward to Salford Priors, Norton, then straight through the centre of Evesham and heading south. Then about 8 miles before reaching Cheltenham, turning off westward towards Tewkesbury.
Then heading through Tewkesbury (well, some did, some took a 'route variation') we then headed down towards Gloucester.
The route took us across the A40 and onto the A38, but then we headed in a straight line for Birdlip Hill! For about 3 miles you can see it looming up ahead!
Then up to the view point at the top of Birdlip, where we met up with the National President and and old friend Colin and Christine Turton! Colin had turned up in is immaculate E-Type, and the National President Terry in his lovely 1950's MG!
From there, a quick stop at the Air Balloon pub, before making our way through the back streets of Cheltenham and on up Cleeve Hill for our traditional picnic lunch stop on the old first tee of the golf course. Some magnificent views to be had from here.
After our picnic it was on through Winchcombe and a stop at Toddington Station for a quick look at a couple of steam trains! (for info one was a 2-6-2 55xx small prairie tank loco, the other a 2-8-0 28xx heavy goods and mixed traffic loco)
Then some decided it might be nice to stop off at the Lavender Farm, and then on to Broadway Tower! Then it was down into Moreton-in-Marsh for our cream tea at The Marshmallow Tea Room. Lovely! It was here that the national President Terry and his Wife, and Colin and Christine all left us.
This still wasn't the end though, as Barry then urged us to 'mount up' once more and head off to the Rollright Stones. After a good visit there, it was onward through Long Compton, Shipston on Stour, and then towards Edgehill for our final stop at The Castle pub. Called 'The Castle' for obvious reasons, when you see the photo!
Once we had finished there it was back through Kineton and Wellesbourne, then back onto 'modern' roads (the M40/M42) and home!
A great day out enjoyed by all, it seems! Long may it continue! Any suggestions for new attractions to visit next year to Barry Durman!
For more, I suggest you peruse the photos (and captions) below.