The Year's Event Reports 2013 - 2014

This is the Event Reports index page for 2011 - 12 and to view the report click on the relevant link below. There is (or should be!) a RETURN link which will return you here, a BACK and a NEXT link that will take you to the previous or next event chronologically.
To return to the MAIN INDEX page CLICK HERE.
Click on the event name or the photo to take to you to the main report for the event.

Our AGM in April saw us once again back at the St John's Hotel. This is the annual 'The Chairman gets to waffle on' night about how good he was all year ... and then thanks everyone for all the work they did to make it look as though he had actually done something ...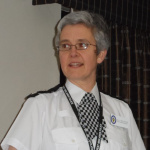 Speaker Meeting March 6th 2014

Our March meeting found us back at our fairly regular venue at the St John's Hotel. Our guest Speaker for the evening was the Solihull Borough Police Commander Sally Bourner.
New Year Walk January 5th 2014
Several of our members, along with some from Tangent, headed out in to the New Year weather to sample the delights of the Kenilworth Greenway.
It seems Roly got to catch up with some of his patients, and Ken kept everyone in order with vigorous waving of his stick!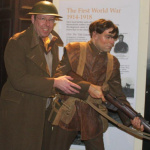 Visit to Warwick Fusiliers Museum 5th December 2013

Our December meeting departed from the 'norm' (whatever that is!) and saw us visiting the Museum of The Royal Regiment of Fusiliers (Royal Warwickshire). There was plenty to see and our guide talked to us about much of the detail associated with at least some of the items.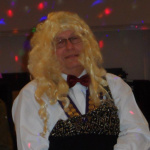 Hall Green Ladies Night and '40th Charter' November 30th 2013

Many of our members, along with their Tangent partners, attended the Hall Green Ladies Night and '40th Charter Night' to celebrate what would have been 40 years of Hall Green Round Table.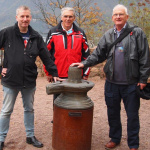 International Visit to Merano November 7th to 11th 2013

Seven of our Late Knights headed off to the Italian Tyrolean town of Merano. It was a tale of drinking, food, and fondling the exhibits. Click the photo to find out more!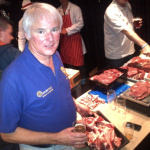 Moseley Table 'Beer and Butchery Night' - 24th October 2013

Some of us joined Shirley Tablers on what turned out to be something of an Area event at Moseley's 'Beer and Butchery' evening. A local butcher (well known to one of the Moseley Tablers) brought along a whole hind quarter of a beast and proceeded to cut it up to demonstrate where the cuts of meat came from.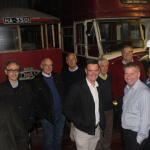 Visit to Wythall Transport Museum - 3rd October 2013

We saw a good turn out at Wythall Transport Museum for our October outside visit. The Museum was opened specially for our visit and we were shown round many of their exhibits, many members seemed to have some tale or other to tell of their youth, memories of travelling around on the buses.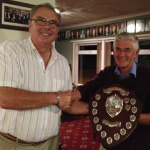 Golfing exploits - September 2013

Some of our members took part in the National Golfing Day and came away with the Team Trophy!

Further, there was also the Golf Away Day, this year held in Wales.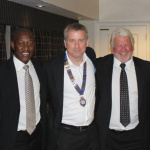 Chairman's Speaker Night - 5th September 2013

Thanks to our Chairman DJ for arranging a very entertaining after dinner talk from the ex-footballers from Coventry City.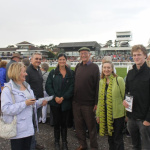 Joint 4 Clubs event - Stratford Races - 13th August 2013

This was our annual 4 Clubs event, and this year we went to Stratford Races!

The first Race didn't start until 5:20pm, and the final race was at 8:20pm, thus allowing a 3 hour time slot for our expert punters to make real headway against the bookies.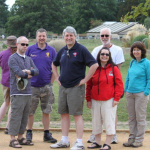 Camping Weekend - August 2013

Several of our members joined those from Circle, Table and Tangent for the annual Camping weekend. This is a great relaxed family weekend.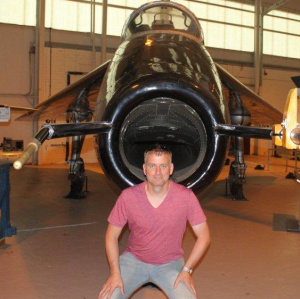 RAF Cosford Museum visit - 1st August 2013

There was a good turnout for the outside visit to RAF Cosford Museum visit, with a presence from Table along as well. We were divided up into groups of about 8 or 9 and taken round the various exhibits.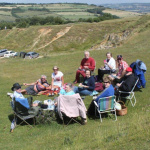 Birdlip Run 28th - July 2013

A fairly select group met up for a leisurely breakfast at the Yew Tree Farm Centre in Wootton Wawen at 9:30, and then set out on the route following the old classic Rover Barry Durman ... that's Barry IN his old Rover ...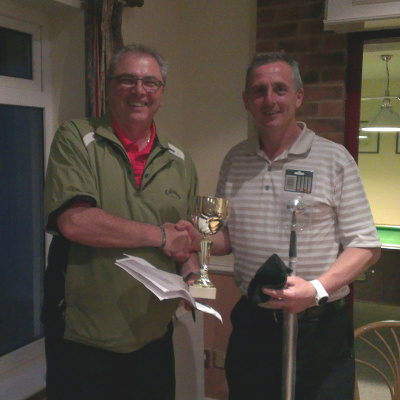 Cec Crossley, Evening Walk, and Widney Manor Golf - June 2013

There were several activities during June that several of our members took part in. The photos of these can be seen by clicking the picture to the left.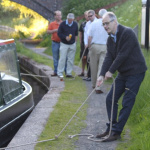 Round Canal barge outing and barbeque - 6th June 2013

Several of our members went on our 'outside visit' to the canal to enjoy the evening sunshine while pottering along the canal and enjoying the country scenery.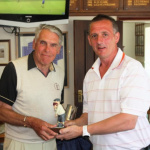 Golf weekend in Wales - 17/18/19 May 2013

Andy is presented with the Cooper Cup Trophy for his exploits during 2012. A little late perhaps, but at least he eventually got his hands on the trophy!

The rest of the rfeport shows photos of various prizes being presented and the overall winner for the weekend being Dave Ollis!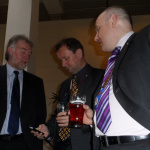 Round Table Area 35 AGM 30th April 2013

Area 35 held their AGM in Birmingham and several Late Knights attended.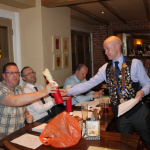 Shirley Round Table AGM 25th April 2013

Shirley Round Table AGM saw another strong turnout from amongst our own members.
Index - Last edited 29 September 2014