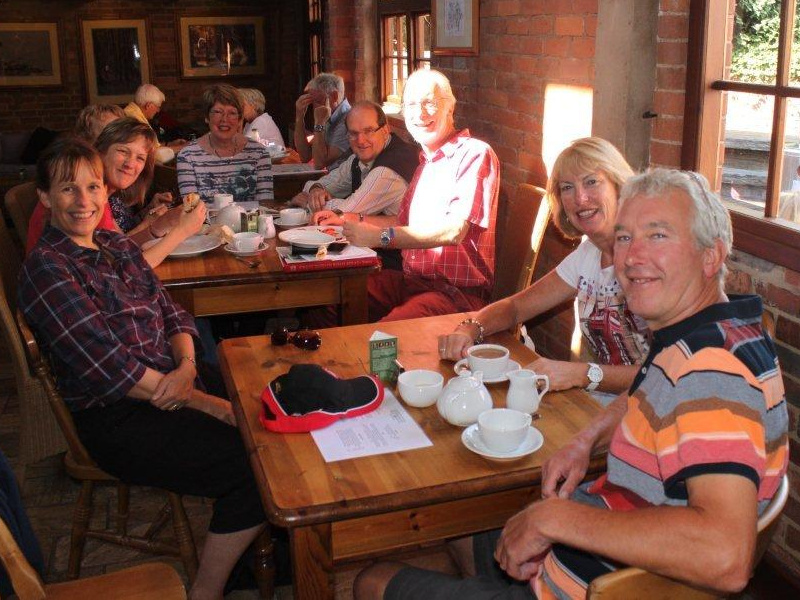 A fairly select group met up for a leisurely breakfast at the Yew Tree Farm Centre in Wootton Wawen at 9:30, and then set out on the route following the old classic Rover Barry Durman ... that's Barry IN his old Rover.
The group expanded at the pre-lunch refreshment stop at the 'Air Balloon' as Chris and Sarah met up with them there.
Then it was off the the traditional lunch stop atop Cleeve Hill with a magnificent view out over Bishops Cleeve, the GWR Railway (more later), Cheltenham Racecourse, and Cheltenham town itself.
This was followed by a visit to the Gloucestershire Warwickshire Railway at Toddington. This is normally a steam railway but they were having a 'Diesel Gala Weekend'. We left fairly swiftly ... After this it was on to see the Snowshill Lavender Farm and a little bit of 'retail therapy' for one or two.
Then the highlight for most, a cream tea in Moreton-in-Marsh! Yum!
The Rollright Stones were then on the itinerary and some attempted to count them, managing to get a different number each time!
Some left at this point but Barry and Co continued on to Edgehill and the wonderful views from the pub for the early evening final drink. Then it was head on home, and another Birdlip Run completed! Well done Barry once again!
For more, I suggest you peruse the photos (and captions) below.