The Year's Event Reports 2015 - 2016

This is the Event Reports index page for 2015 - 16 and to view the report click on the relevant link below. There is (or should be!) a RETURN link which will return you here, a BACK and a NEXT link that will take you to the previous or next event chronologically.
To return to the MAIN INDEX page CLICK HERE.
Click on the event name or the photo to take to you to the main report for the event.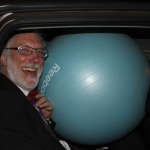 Ladies Night at The Forest - 18th March 2017
Once again we held our Ladies Night at The Forest in Dorridge. There were flags galore around the venue as the theme was based around Europe and our place in it ... or out of it ...
There was also some mention of the various tours that SLK have been on over the years although much of the detail was lacking ... but then don't forget the classic saying "What goes on tour stays on tour!"
Regional Dinner at the Motorcycle Museum - 17th February 2017
SLK organised the Inaugural Region 15 Dinner which we held at the Motorcycle Museum.
On arrival we were able to wander around the museum at our leisure, only to find Terry Cooper (Immediate Past National President) giving us his own guided tour and treating us all to his very extensive knowledge of all things motorcycle!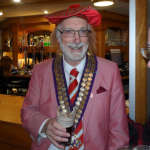 Burns Night at Olton Golf Club - 20th January 2017
Once again we enjoyed the tradition of addressing the haggis, bagpipes, speeches, scoffing the haggis, and then followed up with the Gay Gordons!
Fair fa' your honest, sonsie face,
Great chieftain o' the pudding-race!
Aboon them a' yet tak your place,
<etc etc etc>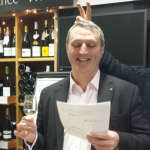 Late Knight Wino's Anonymous - 1st December 2016
It was a great evening at Laithwaites where we got to drink lots of wine and show our knowledge or ignorance of each one, with a quiz about where each one came from.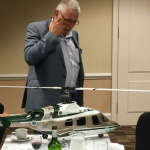 Reunion Night at St Johns Hotel - 3rd November 2016
Our annual meeting where we greet old friends saw us congregating at the St Johns Hotel as usual. As has become tradition, we had a speaker along to entertain us, this time mainly talking about the new phenomenon of drones, and the legislation for them.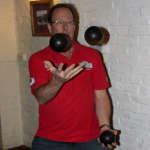 Skittles Night with Solihull 41 Club - 20th October 2016
It was October so it must be Shirley Vs Solihull at skittles! Great fellowship was had by all. In the end, Solihull managed to win the match, but Nigel came good and won at Killer! So an honourable draw overall!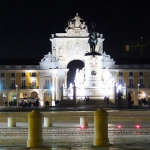 SLK International trip to Lisbon - 14th to 17th October
Eleven of us caught a 7 am flight to Lisbon from Birmingham airport on Friday 14th October 2016:
There once were eleven from Shirley
All chaps and not one a girly
A weekend of wine
And ten were just fine
But one of the guys was quite poorly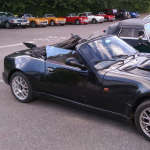 National Classic Car Rally - Yeovil - 5th to 7th August 2016
Several of our own SLK members enjoyed a weekend with many other like minded 41 Club 'petrol heads' from around the country. Unfortunately Barry Durman couldn't be with us this year due to breakage - but of him, not his car!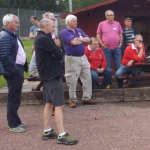 Cec Crossley - Petanque - 28th July 2016
Once again we met and challenged Table to our annual skirmish for the Cec Crossley Trophy. Petanque was the game/sport of choice.
The rules were 'explained' in such a way as to be totally baffling ... but we began throwing boules around anyway.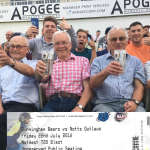 Phil Jones Memorial Cricket evening - 22nd July 2016
On Friday 22nd July Dave Brewin, Dennis Pick, Bruce Wilson and Rex Smith went to the Phil Jones Memorial cricket evening at Edgbaston. We saw the Birmingham Bears narrowly beaten by the Notts Outlaws in a very exciting match on a warm dry evening.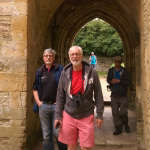 Four Clubs Camping Weekend - 8th to 10th July 2016
About 15 to 20 units pitched up at Charlbury Campsite for the Four Clubs Camping weekend. Your Webmaster arrived on the Thursday morning as the advance party and to try to keep our area clear of other campers.
Once again, a great family weekend where we get to meet many of the families within our 4 Clubs group.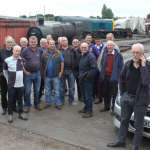 Tyseley Railway Works visit - 7th July 2016
A wonderful evening spent seeing steam engines in various states of restoration and/or repair.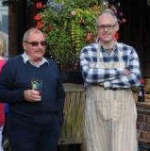 SLK/Tangent barbeque - 2nd July 2016
The annual barbeque took place in Rex and Rosemary's garden, and was organised by Maggie and Nigel. It seems it was as successful as always!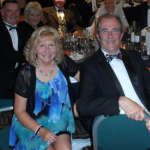 National Council Meeting - Stratford - June 2016
Shirley Late Knights took a table at the evening ball at the National Council meeting in Stratford June 2016 organised by Tim Brown.
Lots of drinking and dancing and a few speeches!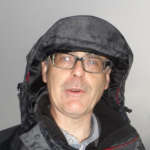 Joint Walk with Solihull 41 Club - 16th June 2016
"Although a few Shirley light weights dropped out of the walk we had a very wet but enjoyable evening with Solihull 41 Club walking through the fields of Balsall Common ending up in the Saracens Head for a few beers and a meal. Nigel also presented the oil can trophy to Chris Taylor for his services to the Millennium Way"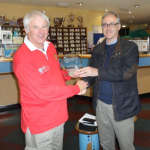 Ten Pin Bowling Acocks Green - 2nd June 2016
We thought it would be a good idea to introduce our two newest members, recently inducted from Table, to some sporting activity with an evening at the Ten Pin Bowling establishment in Acocks Green.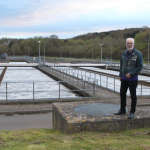 Visit to ABC 41 Club at Stourbridge Sewage works - 18th April 2016
Barry's first outing as National President was to visit the ABC (Active Black Counry) 41 Club on a visit to Stourbridge Sewage works. This was just 2 days into his Presidency. Two days, and he's straight in the .... errrm ... brown and smelly stuff!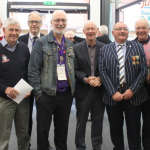 National Conference Birmingham - 14th to 17th April 2016
Our first outing of the year saw many of our Club attending various functions of the National Conference just up the road in the centre of Birmingham.
Index - Last edited 29 March 2017