The Year's Event Reports 2014 - 2015

This is the Event Reports index page for 2014 - 15 and to view the report click on the relevant link below. There is (or should be!) a RETURN link which will return you here, a BACK and a NEXT link that will take you to the previous or next event chronologically.
To return to the MAIN INDEX page CLICK HERE.
Click on the event name or the photo to take to you to the main report for the event.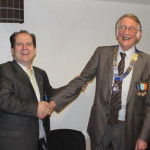 AGM at St John's Hotel 2nd April 2015
We were at our usual venue for the AGM. Keith finished off his year with a presentation of a cheque to the Blood Bikes Charity of all the funds raised during the year.
This was followed by various thank you's to the committee members for their efforts during the year, and then handing on the gong to Ian.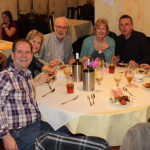 Joint Clubs Charity Lunch - 8th February 2015
As a Charity Lunch event Shirley Late Knights, Tangent, Table & Circle enjoyed an afternoon at the Fortune Inn Chinese Restaurant in Shirley.

45 people attended where we took over the whole restaurant. The raffle was also popular as the photos show.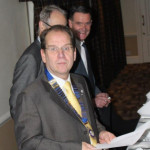 Joint Meeting with Round Table - 8th January 2015
We held our first meeting of the New Year as a joint get together with Shirley Round Table and we had the National Vice President of Round Table as our speaker for the evening.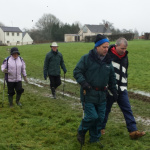 New Year Walk - 4th January 2015
To quote our correspondent: "Although a bit wet, we had a lovely walk from Lowsonford, stopping at the Crabmill for a quick pint and a great pie to finish off back at the Fleur de Lys."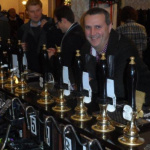 Real Ale Tour of Birmingham - 4th December 2014
For our December Social meeting the Chairman took a thirsty bunch of SLK'ers up to Birmingham on the train (well, it avoids the drink and drive problem!). This was so they could partake of a conducted tour by CAMRA of the historic landmark pubs of Birmingham. The tour started at the Wellington with its vast range of beers, then on to the Joint Stock for some Fullers beer.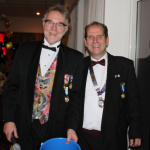 Ladies Night at Shirley Golf Club - 29th November 2014
A complete sell-out and a great night for all those who attended! There were around 90 guests crammed into the Shirley Golf Club Function room for this illustrious event.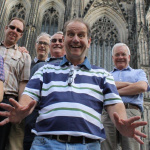 Cologne International Trip - 9th to 12th October 2014

Eleven flew to Cologne in two waves to sample German beer, eat more pork that was good for us, play some cards, "get into" a party, try out the buses and the trains go up a mountain in a cog railway and travel down the Rhine in a boat. Oh, and drink more beer. And then some more.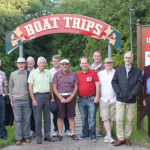 Dudley Canal Tunnel boat trip - 7th August 2014

A large contingent went off to Dudley to sample the Canal Tunnel from the inside. Some even had a go at 'legging' ... which we discovered was very knackering!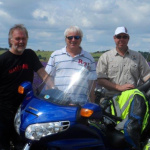 Birdlip Run - 27th July 2014

The Annual Birdlip run toured out to the Cotswolds and back, sampling a great breakfast, a stop at the Lavender Farm, a 'swift one' stop before the usual picnic lunch atop Cleeve Hill. The afternoon took a route via Birdlip Hill and out to cream tea in Tewkesbury.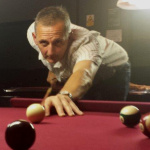 Cec Crossley Challenge - Pool evening - 10th July 2014

Several of our members turned up at Riley's for the annual Challenge against Round Table. A few of our number played for 'the other side' claiming the 'Honorary Member' tag. See the report to see who was more creative with the scoring system ...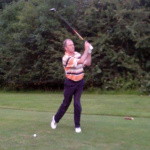 Golf - Widney Manor 30th June and Regional Golf Day 1st July 2014

A good evening of golf and burgers was enjoyed at the annual Widney Manor Challenge, followed by a winning team at the Regional Golf Day. Must have been all that practice!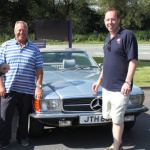 National 41 Club Classic Car Rally 21st and 22nd June 2014

A handful of our members joined the inaugural National 41 Club Classic Car Rally, based at Hinckley, with outings to a track and Coventry Transport Museum.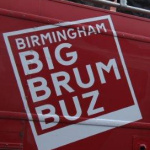 Big Brum Buz Tour 5th June 2014

We spent an evening discovering more facts about Birmingham that we didn't know before! An entertaining evening, with fish and chips supplied by Christos!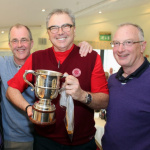 Golf - National Conference Trophy 2014

A great day's golf was had by the Shirley Team at the National Conference Golf Competition because, not only did they win the Team Trophy, but Tim also managed to win the Individual prize as well! Excellent result, guys!
Index - Last edited 30 March 2016