Click the link for the next part: NEXT DAY1/2 DAY 3/4 DAY 5/6 DAY 7/8
Day 1 - Saturday 26th January - Arrival
It all began with the alarm going off at 2:45am (ugh!) as the taxi was due at 3:00am. Once loaded I headed for Coops' abode and collected him. Certain comments about the early start will remain unprinted!
Our airliner was due out of Coventry at 5:40am hence the early start, and their insistence on us checking in (at the portacabin) two hours before departure.
The plane left on time, managing to make his slot (!), and after an easy transfer we arrived at resort by 11:30am, ready and willing to get our room key and get out for a ski .... but reception told us "the rooms are not ready! They will be ready at 12:00." We met for a quick drink with the three Bournemouth friends who had also just arrived. On checking back with reception at 12:10 for our room key we got the reply "sorry, the corridors aren't ready!" (!!??? ..... I don't get it either).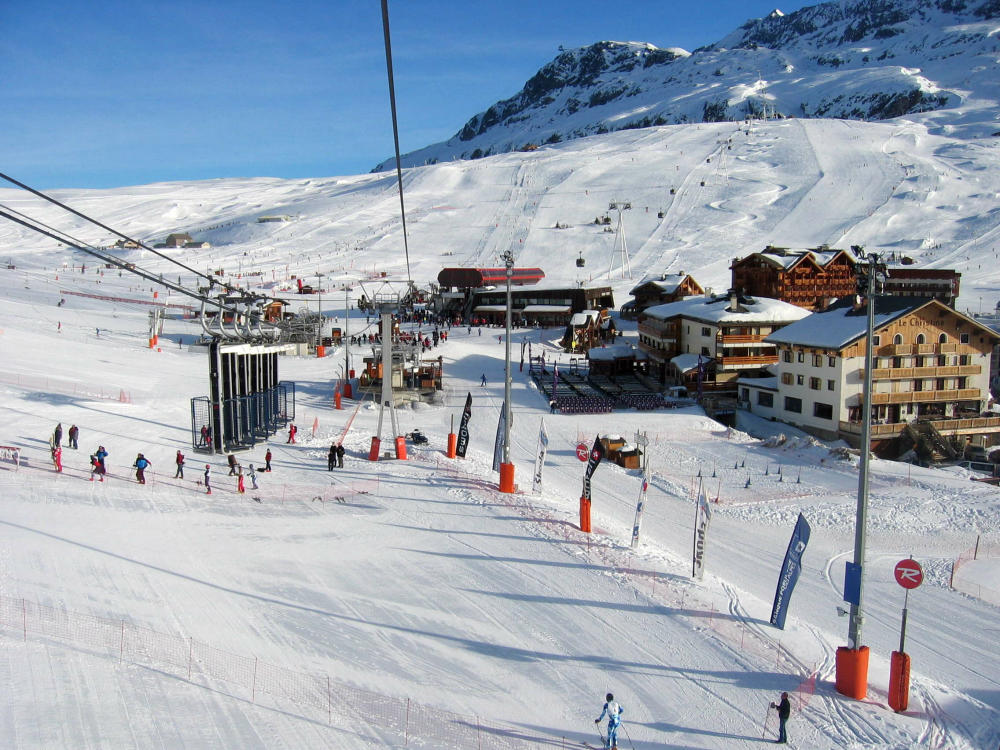 We finally got our key at 12:30, got changed, and were out skiing by 1:00pm - the central area where all the lifts meet can be seen in the picture on the right.
We had a great afternoon in brilliant sunshine - just think of it, nearly 4 hours skiing in brilliant sunshine on our arrival day!
The food was good, although perhaps not as good as some we have experienced in past years, but we do get free wine (so we should!) with chalet board.
The Leicester crew (with Andrew and Lucy Wilson, Bruce Wilson's son and daughter) finally arrived about 9:45pm. Good banter as expected, and we mentioned our ski exploits of the afternoon just to make them feel jealous and justify our early start!