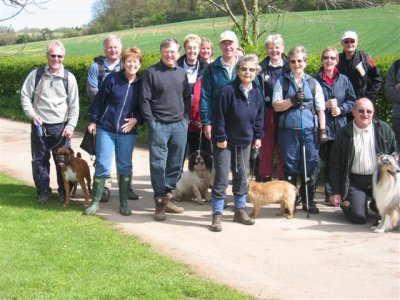 To organise the first outing of the year for the day after Table Ladies Night might be regarded as optimistic, but 17 assembled in the spring sunshine complete with 3 canines in support. This was soon nearly down to 2 as Rex's hound was spotted in the distance making an early bid for freedom.
The 6 mile route was one of the prettiest of walks with a huge variety of scenery. As 2 pubs were also included, the event had the typical necessities of 41 Club. The distance was less than 6 miles with an 'escape' after 4, not required as one pub still remained.
About half a mile along Pettiford Lane at Wootten Wowen, a signed bridleway leaves the road. Here we joined 'Monarch's Way'; part of the escape route of Charles II after his defeat at the Battle of Worcester in 1651.
This stretch soon crossed the Stratford upon Avon Canal and climbed along the bridlepath into Austy Wood where a dense carpet of bluebells confirmed the arrival of spring. Then the move into bright sunshine and spring meadows as the group descended to Cutler's Farm Once through the yard and a photo call, we were to rise again, this time along the elevated edge of Knowle Wood. At the crest, we turned right and descended slightly to rejoin Monarch's Way. A footpath off to the left took us to the crossing of two paths. Ahead was the way to cross the stream serving the fine lake at Edstone Hall. The road beyond delivered us to the Golden Cross Inn at Bearley and a stop for re hydration.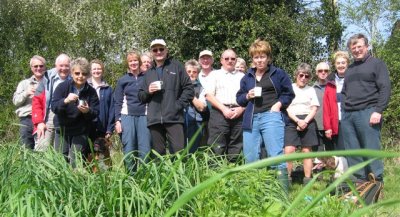 Refreshed, we charged down Salters Lane, under the railway bridge to the aqueduct. This is the longest aqueduct in England, completed in 1813 and recently restored. Water from the canal was piped to the boilers of steam trains waiting on the railway along side. The stroll along the canal took us to the second aqueduct, this time close to the finish at the Navigation. A shock to have to pass the pub and continue along the canal for half a mile to collect the car!!
RETURN
BACK
N

EXT
Last edited 12th July 2005