Round Table National Conference 2005 - Glasgow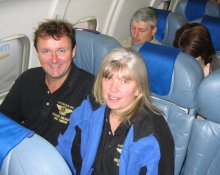 A large contingent from Area 35 headed off to Glasgow for an enjoyable event North of the border, in sunny (YES, SUNNY!) Glasgow. Here we see the Area 35 Chairman Richard looking pleased about something .... probably that they actually let him on the plane. We all protested, but they said he had a valid ticket so there was nothing they could do ....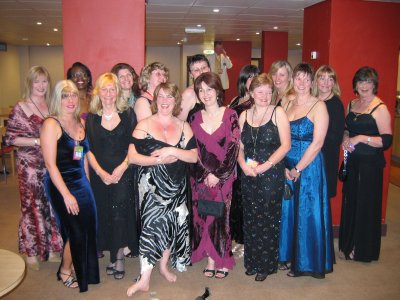 For the evening on the Friday night the group enjoyed a great evening beginning with a McGonnagals dinner (start with coffee and mints, and work through the sweet, main course, and finally soup) and carrying on into the early hours with a good party atmosphere.
This photo shows the girls all dolled up for the evening.
Of course the evening went well for everyone, and as you can see below there was a whole table taken by those from Area 35. Can you spot any, and name them?
And of course it seems those blue jackets get everywhere.....
And there was Barry, I don't know what Rachel was laughing about though .... maybe it was at the size of Barry's gadget ....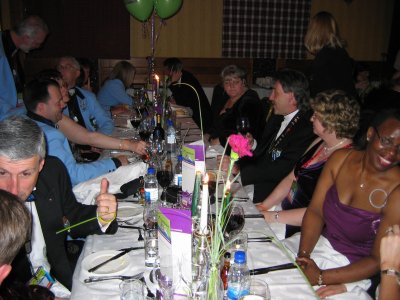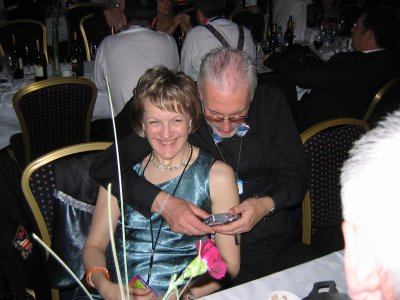 Golf, a relaxing sport?
Never let it be said that playing golf is a genteel pastime. It seems the golf, beer, and then the food and wine got the better of the National Golf Champion (Frank Graham - Area 35 ... where else?), and he was seen in a very relaxed pose, as this next compilation shows.....

In fact he became so relaxed that he missed all the action, when two of the girls tried to tempt him to wake up and take notice. Even this proved to be not enough!!! .... and while Howard encouraged the girls to try harder, your on the spot reporter managed to snap a view from the other end!

National Conference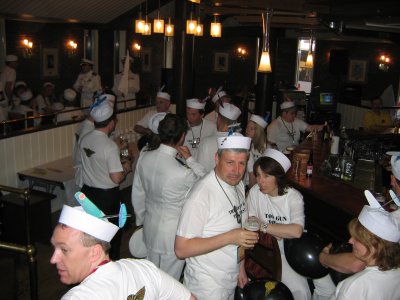 Well, so much for the Friday night.
Saturday dawned bright and sunny, and several were seen with sunglasses and talking VERY QUIETLY! After a good breakfast (for those who could face it) it was off to Conference, well, for most anyway!
After a somewhat liquid lunch we assembled for Gary's interruption all dressed up as squaddies.
There were about 60 of us from Area 35 taking part in the interruption, and what a splendid one it was! Many of us had comments afterwards about how well it went.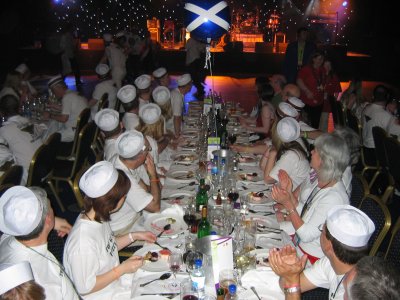 Final Night Party
And then it was into the evening party, where the full effect of everyone in costume takes hold. Here we can see the Area 35 Tables just finishing their meal.
The evening continued, and much fun was had by all. However, who are those two sailors?...

We have here the final set of pictures, where you can see the Area Chairman seems to be having problems with his eyesight. The girls tee-shirts had significantly different wording on them and were easily distinguishable from the guys tee-shirts. Therefore he should be able to tell male from female by just reading their chest. Maybe that's his secret, he can't read! And/or he can't see (possibly too much of the happy juice) .... or maybe he just prefers it that way?! (perhaps we should have introduced him to those sailors.....)

Anyway, moving on, the middle shot shows a bit of colour, with some nuns and tarts from somewhere unidentifiable, and finally Gary showing off his gong!
RETURN
BACK
NEXT
Last edited 12th July 2005