International Weekend
Sub title: Shirley Late Knights visit the Ex Communist Bloc. Vodka tour 2005.

Chairman Tim Brown led a group of Late Knights on their latest jaunt into Europe, he was ably assisted by the Colonel who took over the military planning and logistics to ensure tat we were all delivered to the correct Post Code GD1.
Personnel numbers were issued on the bus with Andrewartha at 1 and Wilson at 18 and all proceeded swimmingly until the Watford Gap when Number 1 demanded a pee break and it was downhill from there on. At Luton the decision emanated from somewhere that we should all eat airside, whatever that means. Having all checked in we waited. Yes, we all had Passports and no one had booked the wrong day.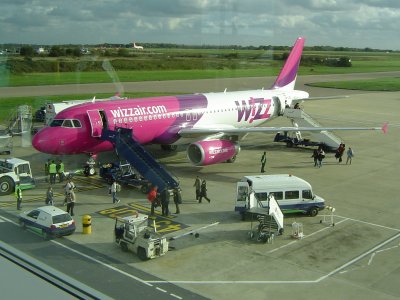 There really is a Wizz airlines and we all got on board. Number 1 sat in Business class the rest slummed around the rear. Nothing new there then.
The biggest surprise was that on arrival in Gdansk we were met by several members of Poland Number 2 Round Table who drove us to the hotel and then proceeded to take us to a restaurant and various bars in the town. I believe that number 4 broke a table in the restaurant from leaning on it too hard. Motto beware furniture in Eastern Europe.
The tablers wanted to know why they were entertaining tablers dads.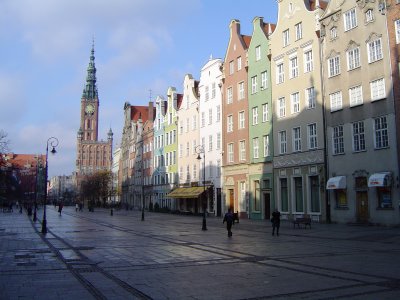 On Saturday the Polish tablers Jack (Jatsek) and Paul took us around Gdansk where we saw the largest medieval crane, which was man powered, the cathedral, the largest brick built church in Europe, and two other churches. The last had been affiliated to the Solidarity Party and the priest had been killed by the government, though no one new who ordered it or why. A train journey to a Modern Art Museum in the suburbs followed where the Gdansk Art Society was celebrating its 60th anniversary. A tabler invited us as he is a member. The gallery included communist art of happy workers building a better Poland and then moved on to as obscure and outlandish as Tracy Emin could conceive. The Chairman was quoted as saying "They must be on drugs". Of course all the happy workers have moved to London and work as plumbers now. The arty-farty types all had a good time even if the wine was atrocious. They celebrated their freedom just by being there.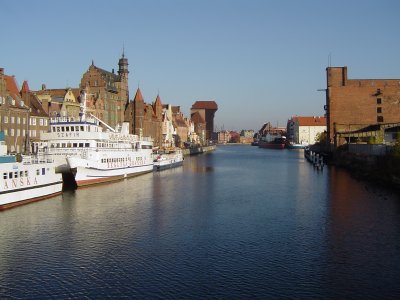 Sunday and Jack took us on a guided tour of the shipyard with a politics student. Fantastic. The hairs on your neck stood up to be at the place the collapse of communism started in Eastern Europe. So recent, and yet the grainy photos and newsreels seeming to be a different era, which of course they were.
To Sopol on the train to walk the beach of the Baltic, have a beer in the Autumnal sunshine and meet another tabler "Spaceship". Named because we could not say his name. Then on to a restaurant for more traditional Polish food in a hunting lodge behind a petrol station. Traditional food and vodka, and vodka, and vodka. We drank to everything. Presentations were made and we left our hosts as Brother in Arms.
Monday, Jack came by the hotel to say goodbye, as we all left for Lech Walesa airport
The time and energy that the Gdansk tablers must have spent on us was unbelievable. We will never be able to repay such generosity of spirit, and they were honestly very proud of how far their country has come. We could never thank them enough.
As regards Poland I'm glad I went before they become as rich materialistic as us, I think they still have a personal pride many miss at home.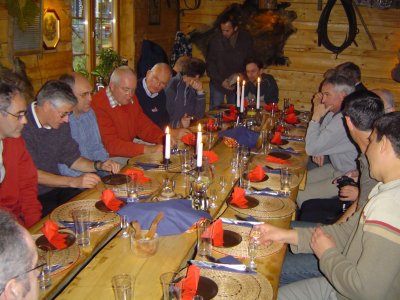 As for the Late Knights the camaraderie, it is a Wales weekend without mountains, Sports weekend without sport, Conference weekends without the AGM. They are all great. The stories people tell when under the spell of the alcohol truth drug of previous trips and characters are wonderful, but then what goes on tour……….
Tim is now working on a new concept, Costa Zlotty
Many many thanks go to Whit. A weekend we will always remember.
He counted us out and he counted us back. All present and not so correct.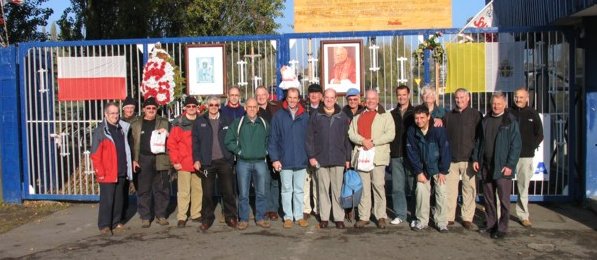 Hell what can we do next year?
"Ships on the Sea"