Shirley Round Table 50th Charter Night - 18th November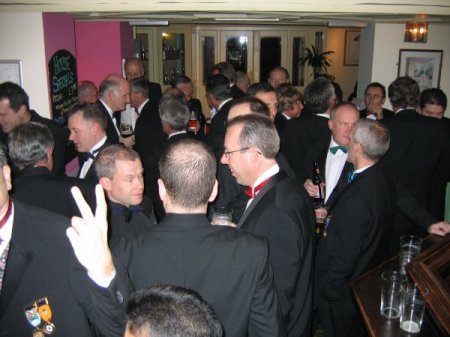 The evening began in the usual Table fashion, everyone in the bar! (no surprises there then....) ... hang on, where's the bar?! ....
.....
.....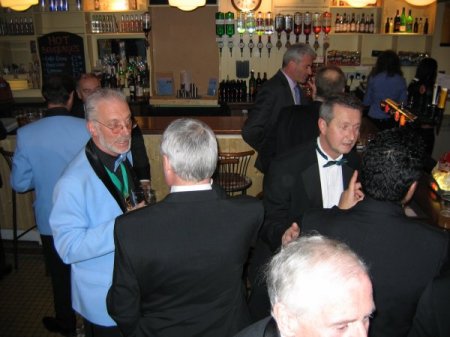 Ah, yes, there it is. Barry was hiding it behind his jacket, ably assisted by our newest member, Richard Halstead.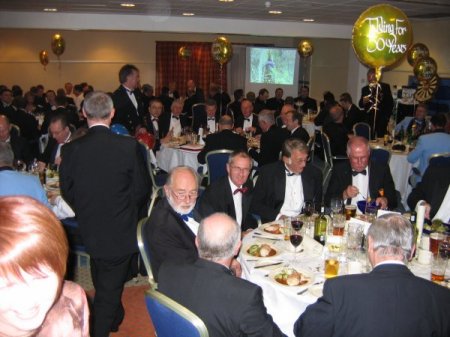 An excellent turnout of all the "Old Boys" ensured the evening continued with much chat, banter, and reminiscences.

In the background you can see the screen where Richard Phillips had put together an excellent presentation of Shirley's History, including much video footage of many events.

Yes, there was the legendary "brick" moment (ask Nigel Mears!) and also Bob von Bergen's EPIC helicopter rescue off Cader Idris!

We also saw how Bruce Bragg got his Table nickname - "Headstone"!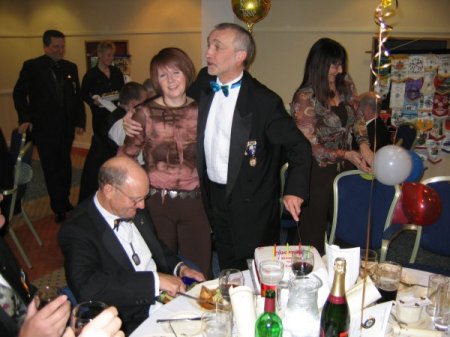 We even had an extra celebration with Ian "Mad dog" Grayson turning 50 on the day! A contingent of the girls brought him a cake ...... luckily they didn't put the full complement of candles on it or it could have set fire to the venue ....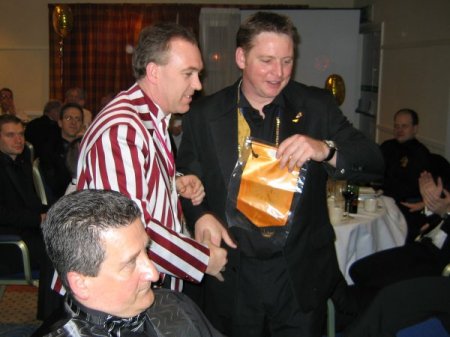 The evening continued with much celebration, and there was the traditional exchange of banners between visiting Tablers and Shirley's Chairman. Here we see Kevin Johns, Area 35 Vice Chairman (K & D Table member) and also NSW 2006 Committee member (for Area 45) exchanging a banner for at least one of the events he is supporting!
And to finish with, here is Shirley Table celebrating in style ..... moments before losing the Rondel to Moseley Table. Click here to play "Hunt the Rondel" at Moseley's President's Night (I don't think it is too hard....)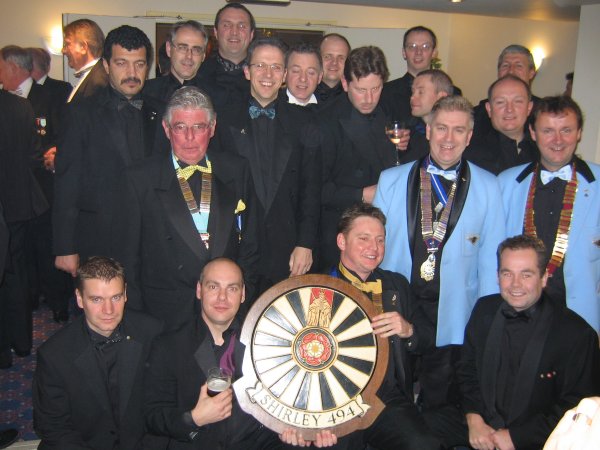 RETURN

BACK NEXT
Last edited 30th November 2005