Cec Crossley Challenge - Pool Night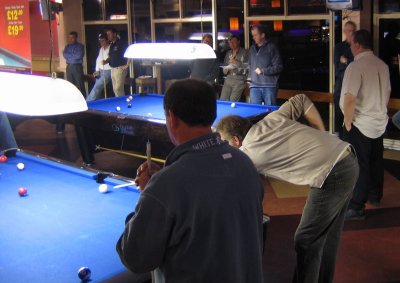 We made our way to Riley's Pool Club above the Ice Rink at Hobs Moat, for the annual Cec Crossley Challenge Trophy match against the "old enemy", our friends in Table.
There was much discussion about size of bats, what the pitch was like, whether to use the light or heavy roller, and appeals for the light. However, once the light switches were found, for the tables we were SUPPOSED to be using, the action commenced.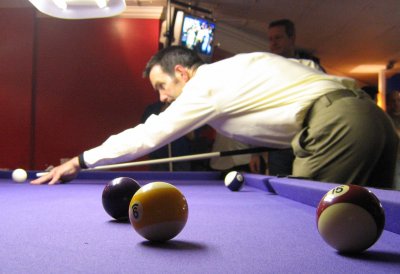 There were some great poses made over the tables, but then they showed themselves up once they took their shots. Here you can see Colin lining up on something ..... (errrr, Colin, all the balls are down this way, mate!)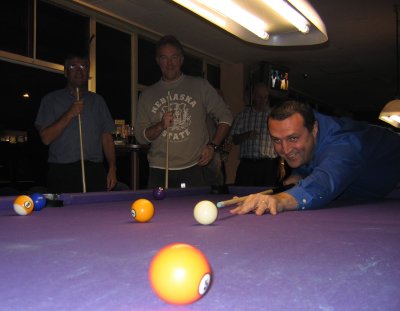 Of course Paul Stevens tried his hand at the pose shot ...... but his aim for the yellow seems a bit off. Maybe he is just going for the artistic license .....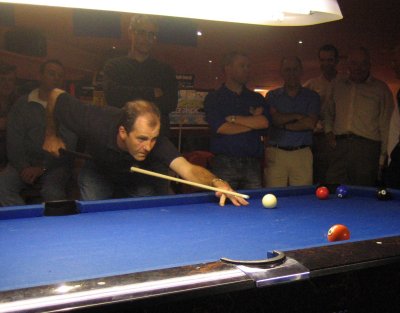 Anyway, to cut a short story even shorter, Table tried hard, but Tim finally came up with the winning classic "three quarter front view" pose shot to win the whole thing for Shirley Late Knights!

Well, that means just for once we don't have to organise next years event! However, it also probably means Table will be back with something far more sporty .... perhaps like poker .... or maybe scalextric .....

BUT, that wasn't quite the end of the evening, as we had one more deed to perform, namely an induction.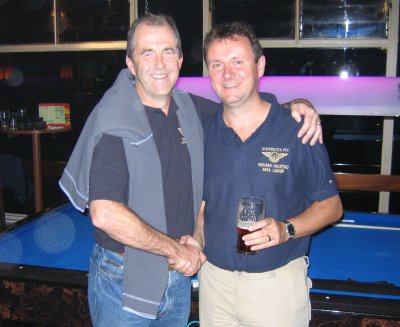 When the SLK members realised it was to induct Richard Halstead there seemed to be some murmurings around the room, but Tim "The Chair" progressed to the presentation of the badge so quickly that the membership were stunned into silence!
So there we have it, the newest member inducted into our midst. Is this a precedent, having a member of SLK while he is still Round Table Area 35 Chairman?
RETURN
BACK
NEXT
Last edited 15th November 2005