Knight Riders - Barry, Nigel, Peter, Terry
The blog is in two parts (so far), there is the main (relatively) factual reporting on this page, and then there is the rather more 'interesting' version written by Peter 'man-kini' Davies. You can read his version if you CLICK HERE
First entry - written on Sunday 26th April:-

Six weeks of training and only 5 days before we dip our wheels in the Irish Sea at Whitehaven.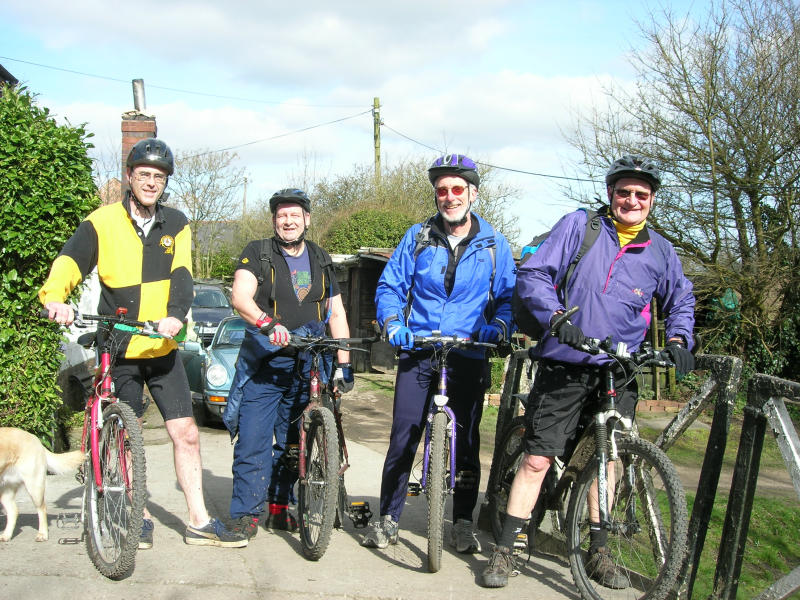 Today (Sunday 26th April) we have completed our final training ride, 40 miles and a delightful mixture of road and bridleways, towpaths and the Kenilworth Way. Part of the route took us along the Millennium Way, emblazoned with the new 41 Club logo! Very quick.

On Friday 1st May we begin our ride from Whitehaven by heading North to Keswick, up and over Whinlatter. Then its east to cross the Lake District and our first overnight between Keswick and Penrith after 39 miles riding. Next day we cycle through the Eden Valley with its sandstone villages. We then climb up Hartside and the mighty Pennines, the roof of England, before dropping down the Garrigill, 37 miles today and more than half way. Day three, although only 34 miles, is the toughest day with the undulating ride meandering through the old lead mining villages of Nenthead and Rookhope, cresting the highest point of the ride of Black Hill at 609 meters. Now down into the Durham Dales before entering the old steel town of Consett for our 3rd overnight. The final day after yesterday is relatively easy, 25 miles down to Sunderland and the North Sea.

Although we did not intend to raise money when we first planned the C2C, (the ride was to be for 'pleasure'), the opportunity seemed to good to miss. I am raising funds for Community First Responders, Peter for Lifeboats. So far, our combined sponsorship exceeds £2,200 and its still coming in. Thanks to all.
Second entry - written on Wednesday 29th April:-
The four of us are off tomorrow to begin our ride as 'Knight Riders' on Friday. Thanks to all who have so generously sponsored us. I think I will make my target, enough for the cost of the equipment needed as a Community Fast Responder. The total from Shirley Late Knights for me is £750; fantastic and many thanks. Round Table has added a wonderful £200. Peter is still adding up his pledges, but its a good sum.

We will be sending a 'blog' to our Chairman and Webmaster so you can keep up to date with our progress.
Terry
Third entry - written on Friday 1st May:-
Successfully completed day one; very wet, cold but triumphant. 44 miles on the GRS, and 3,400 ft of ascent. We had a storm until well into the afternoon which made things uncomfortable to say the least. Downhill, the rain hurt, like tiny needles; but we finished. Peter became the victim of severe cramp, which caused a few stops. The final hour was in sun out of Keswick and that gave us a nice finish. 37 miles tomorrow, away from the Lake District and up onto the Pennines. Thanks for thinking of us.
Fourth entry - written on Saturday 2nd May (8:15am):-
Pics at start of ride. Us. Seventeen others in a team. Nigels puncture before we even started Terry is doing email. Very wet so no more photos.
Barry
Fifth entry - written on Sunday 3rd May (10:30am):-
We met Ray and Lana at the top of Hartside for a welcome cup of tea. He looked well. Then we plummeted down to our overnight stop in Carigill. Good BnB. Hard start with me doing the road and the others going off road. Silly bugg++ers. I have been waiting 30 mins already.
Barry
Final (??) entry - written on Monday 4th May (2:15pm):-
Well done to the Webmaster for sorting website (considering his computer was broken for much of the weekend!). We drank a toast to you on the beach at Sunderland.

We finished all in one piece. Nigel fell off into a pond which we photographed. See attached below ...

Knight Riders
Post event summary notes from Terry Flower - plus additional photos
162 miles, 20 hours in the saddle, 13106 ft of ascent, max speed 43 mph (that bit was exciting). We are very grateful for the support and sponsorship from 41 Club, and to Dave, Mary & Jenny for the logistics.
A resume:-
Day 1, Friday, was cold, wet and windy, altogether a challenging 44 miles from Whitehaven over the Lakeland Fells and beyond Keswick.
Day 2, out of the Lake District, along the Eden Valley and onto the Pennines. A navigational error at Penrith added 12 miles even before we climbed up Hartside, resulting in a 53 mile ride today.
Day 3, and 3 more big hills before we enjoyed a long and truly exciting off road descent and then a ride into Consett. A broken chain earlier in the day as we were crossing the moors, miles from anywhere, was the biggest problem, but that was fixed out in the wilds.
Day 4, the final day was just 25 miles to the North Coast at Sunderland.
Read Peter's version by clicking the title below:-
The Knight Riders - an epic tale of yesteryears.
Gallery set up for further photos (hopefully!). Click a picture below to see the full size version, and then move through the gallery with NEXT and PREV options to left and right of the picture